Inspired by
Jan
, I dug out the
needle felting kit
that I bought over a year ago, but never used, and tried my hand at adding some embellishment to one of the bowls I made the other day.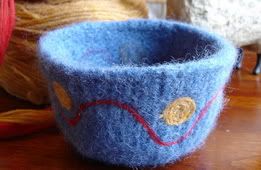 Not bad for a first attempt. I found it was easy to position the yarn into a design with a few stabs of the felting needle and then remove it and reposition it if wasn't to my liking. Once it was right, multiple stabs of the felting needle permanantly embedded the yarn into the bowl. The yarn I used was
White Buffalo
, which is unspun wool. It worked great for needle felting.