...one last time.
This is a well traveled pair of socks, having been knit in Utah, Texas, Iowa and Oklahoma. This last
Trek Along
takes place in downtown Edmond, Oklahoma. It was too hot for anything more than a walk down the street to view a few of the many bronze statues that are scattered throughout the town.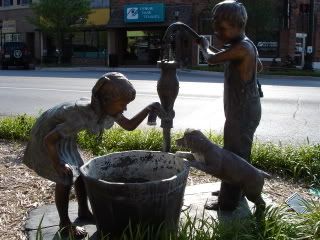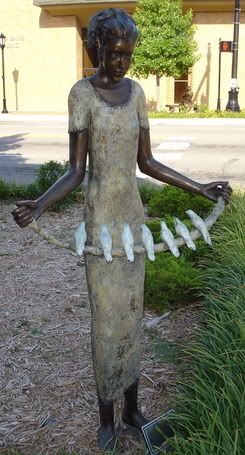 As you can see, these socks are 99.99% Trekking XXL. They are the first pair I've ever knitted for my husband. I just assumed I would have enough yarn and I almost did...so close. When I couldn't find more Trekking in the same color, I had to improvise with another brand of yarn in a complementary color. A good wife and knitter would have ripped out the first sock toe and worked it in black to match the second, but I'm pronouncing these "finished as is". John, the next pair will match, I promise.