Arrived safely in Edmond, Oklahoma. We're camping at
Central State Park
and enjoying it even though it is very hot. High temperatures have been over 100 degrees. I'm glad our travel trailer has air conditioning.
We moved Matt into his dorm yesterday. It's very nice for a freshman dorm, just recently remodeled. The name of his dorm is
Fails'
. Couldn't they have named it "Succeeds" or at the very least "Passes"? I'm sure it must be named after a
benefactor
by that name, but still.
I decided to finish John's Trekking sock last night and I would have, but I ran out of yarn. I only need enough for one more round and then some to seam the short row toe. I decided to see if Hobby Lobby had anything I could use. They didn't, but I found this.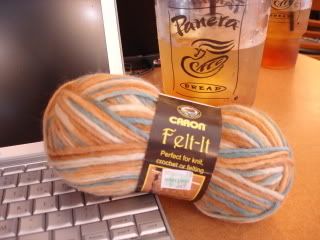 This yarn is a lot like the unspun White Buffalo wool that I've used for felting before. I see another felted bowl in my future.
Tomorrow we are going to visit a yarn shop in Guthrie. I hope to find some sock yarn that will blend well with John's sock or maybe I'll get lucky and find the same colorway of Trekking XXL. Check back later for a "yarning" report and maybe even a
Trek
with a finished pair of socks.
P.S.
Panera Bread
is a good spot for free WiFi. The food is good too.