When I joined
The Lucy Ladybug Knit-Along
, I set a personal goal of contributing one bereavement set per month. This is not a requirement of the group, just something I determined to do on my own. Well, it dawned on me at the beginning of this month that I let July slip by without knitting a stitch for Lucy, so I pulled out some yarn, needles and a favorite pattern and cast on right away before August became a memory too.
PATTERNS:
Preemie Baby Kimono
and
Knitted Preemie Hat
YARN:
Kraemer Yarns Little Lehigh (blue) and Red Heart Soft Baby (white)
NEEDLES:
US 5
FINISHED MEASUREMENTS:
Chest cicumference = 10"
Length from neck to toe = 14.5"
Hat circumference = 10"
I've used this pattern or a variation of this pattern at least four times now. The simple, classic style is one I never get tired of. It's my first choice for a boy's set, but would be nice for a girl too.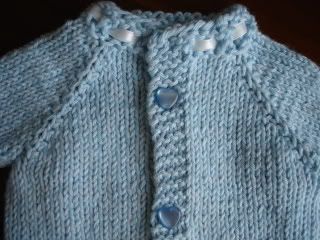 I wanted to make the gown a little longer, but I had to stop when I got down to the last little bit of yarn. See the two thin stripes of blue yarn in the hat? That's all I had left!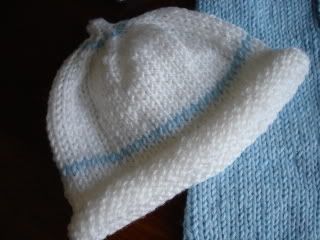 It's not neccesary, but I always like to include a ladybug somewhere on the set as a remembrance of LucyBug.