I had another one of those days where I just couldn't stop knitting the same thing over and over again. This time it was felted bowls, based on the pattern from the book
One Skein
. I've used this pattern
before
. Yesterday I experimented with different sizes and shapes. It was a lot of fun. Each bowl took less than an hour to knit. I knitted and felted them separately so I could make changes if I thought I needed to.
As you can see, I ended up with several nice ones. It's interesting to see how various yarns felt differently even if they are the same brand.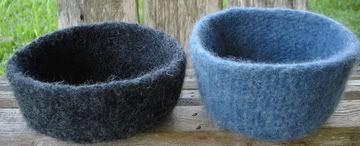 The first bowl I made was the charcoal one, knitted from
Wool Pak
. The blue bowl was next and is made from
Lopi
. These two bowls were knitted exactly the same and felted to the same size, but shaped differently when wet. I thought briefly about shaping the blue one into a square, but changed my mind. It would work though.

I experimented with stripes on these bowls and I really like they way they turned out. The red and blue bowl was knitted from
Wool Pak
also. There is quite a difference in texture when you compare it to the charcoal one. Also interesting is that it was knitted to the same size as the two previous bowls, but it felted to a smaller size. The brown and natural bowl was made from
Cascade Pastaza
.
All bowls were knitted with one strand of yarn on 45 stitches using size US 11 needles except for the brown one which was knitted on size US 10 1/2.