This is "home sweet home" for the next week and a half. We're leaving today to take my son to
college
in Edmond, Oklahoma. We'll be staying a week while he attends an engineering seminar and then meet up with him next weekend before saying good-bye. The summer has gone by so fast. I can't believe this day is here already.
I'll be updating the blog as I can. We won't have Internet access where we're camping, but I know a few spots in town that have free Wi-Fi. Until then, here's a picture of a little something extra I included with my donation to
Lucy Bug
.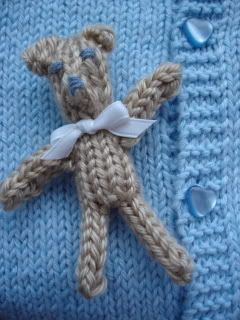 The pattern is from the Summer 2005 issue of
Interweave Knits
. I found it to be a bit fiddly in places, especially when shaping the nose and ears. It took me longer to make than I expected (an hour or more). The pattern introduction says something about making a family of bears in an evening, so I thought it would go much faster. He's cute, but I don't know if I'll make any more. Knitted with worsted weight yarn on US 5 needles.
Time to hit the road. I'll be knitting John's Trekking socks on the long drive today. They should be finished soon.