007 Snap a Dozen Days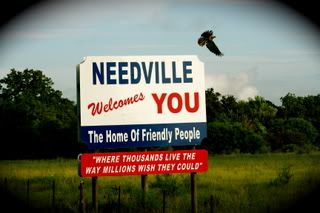 Needville, Texas
The Home of Friendly People

Pop. 2609
We moved to Needville the first weekend in August, twelve years ago. John took a transfer to Houston, but we knew city-living was not for us. We had already lived in the Houston area two times before and had heard about Needville from friends who lived here. We decided it would be a great place for us to live and raise our children. We were right. Robyn was in 7th grade at the time and Matt was in 2nd. It was our hope that we could live here long enough to get both kids through high school and we have.
Needville is a small town with
good schools
and a strong sense of community. So far it has escaped the urban sprawl of Houston, but it's coming. Until then, I'm going to enjoy the cotton fields and pastures and small-town-living that I love so much.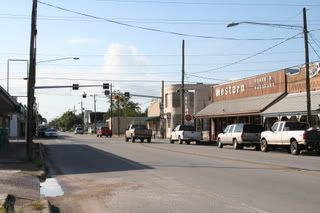 The Four-Way Stop in Downtown Needville
You can tell you are in Texas by all the pickups and SUVs. We can tell who's not from Needville by the way they drive through the four-way stop. Out-of-towners loose track of whose turn it is.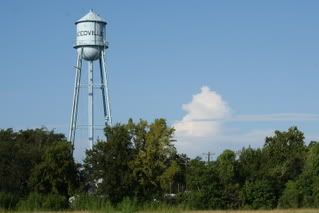 The Old Needville Water Tower
This is a well known landmark around here. If you should ever get lost (which would be hard to do), just look in the sky for the water tower and follow it to downtown.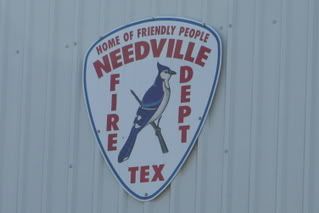 Needville Fire Station
The Bluejay is the school mascot, but it is also the symbol of our town. It is used by the fire department and police department. Everyone around here shows their Bluejay Spirit.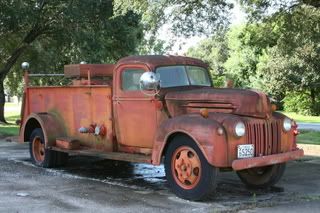 Needville's First Fire Truck
Of course, we have
modern well-equipped fire trucks
now. This old one sits outside the fire station and represents a piece of our town's history. Click
here
for a detailed history of Needville.
Entering Needville on Highway 36 South
When I see this sign, I know I'm home.
P.S. For those that might wonder, that's a hawk in the first picture. It was sitting on the sign when I pulled over. I grabbed the camera quickly, but only got this one shot (from inside the truck) as it flew away.