Continued from
this post
.
My intention was to spin a yarn that would be suitable to knit the neck gaiter from the book One Skein. I was shooting for a worsted weight, but ended up with a bulky weight instead. I tried to adjust the pattern to work with the yarn, but I didn't have much luck, so I decided to knit a scarf instead.
Pattern:
A combination a couple of different patterns from the Rib & Cable Quartet
Book:
One Skein
Yarn:
2 ply spun from J. Knits 100% Merino Wool Roving
Color:
Iowa
Needles:
US 9 straight
Finished Size:
5" wide by 38" long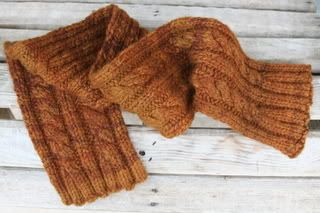 This scarf is for John. It's long enough to go around his neck and tuck into a jacket or vest, but short enough not to get in the way when he's casting a line into the water. It will be perfect for winter nights on the pier or other
extreme weather fishing
he's famous for.
I enjoyed knitting with this yarn which is extremely soft and squishy. It spun up round and smooth and I really like the way it looks in ribs and cables.