Morning Glory
Morning Glories are such pretty flowers, you wouldn't expect to hear that someone is trying to get rid of them, but that's exactly what we are doing. Several years ago we started a vine on the small arbor that marks the entrance to the vegetable garden. The vine grew well and filled the arbor quickly.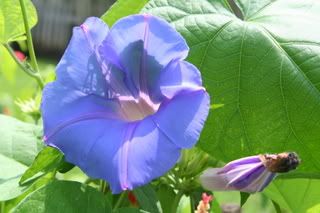 Unfortunately it grew so well and so fast that it began to take over everything. We were always having to pull runners out of the thorny rose bushes (not fun). The vines would grow at least a foot a day and twist themselves on anything near and far. It was a constant job to contain this vine and we couldn't keep up with. So this year we said good-bye to Morning Glory.
But it doesn't look like she's ready to say good-bye to us yet.