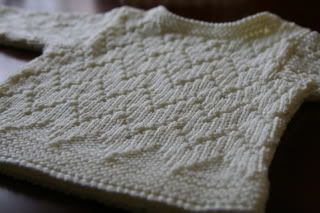 Pattern:
Fred Textured Sweater
Book:
Natural Knits for Babies and Moms
by Louisa Harding
Yarn:
Plymouth Yarn Dreambaby D.K., 50% Acrylic Microfiber, 50% Nylon
Color:
Cream - 101
Needles:
US 5 and 6 straight
Size:
Newborn
This sweater was a joy to knit. The front, back and sleeves are knit separately and then seamed together. The chevron stitch pattern is simple to work and adds an interesting texture to what would otherwise be a plain sweater. Garter stitch is used for the bands on the bottom of the sweater, the neck and the sleeves. Three little buttons on the shoulder add design detail and will make dressing baby a little easier.
Though Dreambaby is not a natural fiber, it worked well for this pattern. The result is a nice soft sweater for baby and easy care wash and dry for mom.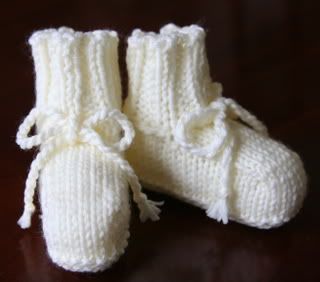 The pattern for the booties is also in
Natural Knits
. The only change I made was to knit them on needles one size smaller: US 5 straights.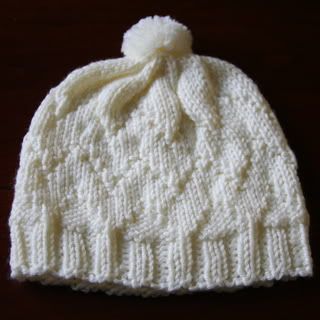 The hat was inspired by the sweater. It was knit in the round on size US 5 circular and DPNs with Dreambaby D.K. yarn.
Cast on a multiple of 8 stitches (I used 72 stitches for a newborn size).
Work 2x2 ribbing for approximately 1 inch.
Work rows 1-18 of chevron chart from
Natural Knits
.
Work rows 9-18 once more.
*K7, k2tog, rep. from * to end (64 sts).
*K6, k2tog, rep. from * to end (56 sts).
Cont. to decrease every round, working one fewer st between decs until 4 sts remain.
Cut yarn and thread through remaining sts. Pull tight and weave in all ends.
Sew on pom-pom.
If you like to knit for babies and still do not have
Natural Knits
in your library, I highly recommend that you add it soon. I've made 8 of the 21 patterns in the book and see myself knitting almost all of them before I'm through.