The Fiber Related Gifts: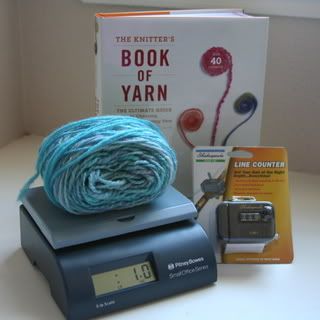 --
The Knitter's Book of Yarn: The Ultimate Guide to Choosing, Using, and Enjoying Yarn
by Clara Parkes
I've only had time to skim through this book, but I love what I see. Very interesting reading for a knit geek like me and lots of
great projects
too. I want to knit all of them.
--Digital postal scale for weighing yarn or roving
I think this is going to come in handy.
--Line Counter
Originally designed to measure fishing line, but I plan to use it to measure yarn. I haven't tried it yet, so I'm not sure how well it will work. No, I will not share it with John. Wool should smell like sheep, not fish.
The Big Gift:
Last year it was a spinning wheel, but this year it has nothing to do with spinning or knitting. I won't say what is just yet--not until I have a chance to use it and to get good pictures. Here's a hint though--accessories include a milk crate, cargo net and dry bag. Some of you know exactly what I'm talking about. Pictures soon, I hope.
The Best Gift:
Without a doubt, the best gift was having the kids home for Christmas.
Matt and Robyn
It was very windy the day we went to the beach, which made for some interesting designs in the sand.