The Christmas knitting can now be revealed.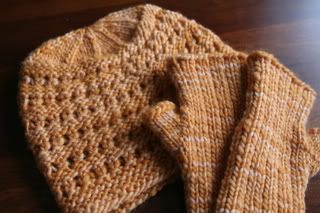 My Hat of Choice
and
Maine Morning Mitts
Yarn: Monos del Uruguay
Color: Persimmon
Needles: US 8 (hat), US 7 (mitts)
Great patterns! I'd love a set for myself.
Cotton Washcloths
Yarn: Lion Cotton
Colors: Maize and Khaki
Needles: US 7
Began decreases after 60 stitches.
Paired with
Bay Rum Soap from Herbaria
.
Boyfriend Hat
Yarn: Lion Wool
Color: Cocoa
Needles: US 7
Cast on 90 stitches and added one inch to length.
Love the decreases!