Monday at Wool Windings has become the day to show the progress of whatever sock happens to be on the needles.
I bet you're getting tired of seeing this one. I've been working on it off and on since November 1st. I brought it with me on our drive to South Texas this weekend and was able to knit a few rounds in the car.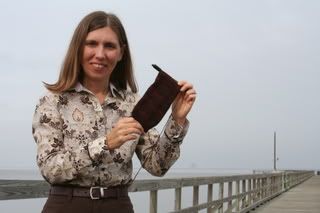 As you know, this sock is for John. It is the second one of the pair. Here I am showing it off on the pier at Baffin Bay. Maybe I should have saved this yarn for me since it goes so well with what I'm wearing.
I brought the sock with me as we walked through the campus of Texas A&M Kingsville. John and I both went to school here (it's where we met) when it was Texas A&I University. A few years after we graduated, A&M bought the university and changed the name. None of the alumni were very happy with that, but at least the school colors are still blue & gold and the mascot is still the
javelina
.
Here's what a javelina looks like with a sock in his mouth. Go Hoggies!
But we weren't there just to take pictures of knitting. We were there to celebrate with John's nephew.
Congratulations, college grad!
Question:
I did not knit at the graduation ceremony, though I considered it. How many of you have knit at an event like this?