I came across the cutest
Mini Mitten Ornaments
the other day. They are knitted from leftover sock yarn. I had visions of knitting several of them until I made the first one.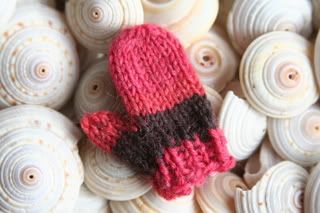 It became clear to me right away that this little mitten will never have a mate. So tiny, so fiddly (for me) on double pointed needles that I almost didn't finish the first one. I stuck with it though and an hour later I had an adorable mitten that's not even as big as my little finger.
Though this pattern is not for me, you might be interested. It's well written and the results are really cute. Others have made
several pairs
in record time. So don't discount trying it just because I gave up. You'll know by the time you reach the thumb whether it's something you want finish or not.
When you print out the pattern, you'll have a good idea of how tiny they really are. Mine matches perfectly to the picture.