Thanks to everyone for the tips on washing and drying hand knit socks. It seems the safest way to go is hand wash and air dry, though several of you have good luck with the hand or gentle wash cycle on the machine and a low heat setting on the dryer. I think dryer heat is to blame for the trouble I've had with superwash wool fuzzing up over time.
When this pair is finished, I'll be sure to take special care of them, especially since they are for John.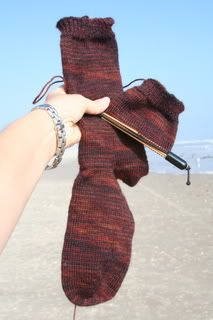 The first one is finished and it's fits perfectly!
Recognize the setting? It's Matagorda Beach. Warm weather and free time coincided, so I spent Friday afternoon picking up shells and enjoying the sights and sounds of the beach. It's just what I needed to refresh my outlook before the chore of Christmas shopping on Saturday.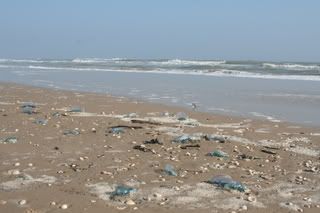 The beach is never the same twice. This time the tide had brought in hundreds of
Portuguese Man-of-War
. It was warm enough to go barefoot, but I kept my shoes on to avoid finding out what their sting feels like.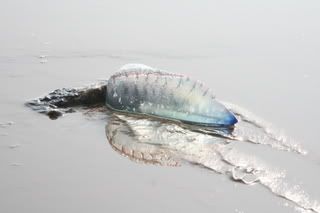 Shell hunting was excellent and I was excited to add a Murex in good condition to my collection...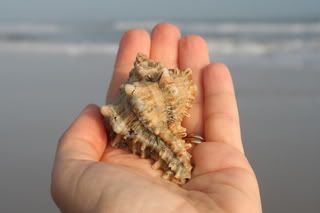 ...along with lots of Sundials (about 35), three nice Whelks, eight Angel Wings, a broken bit of a Banded Tulip and a few of the more common types that I like.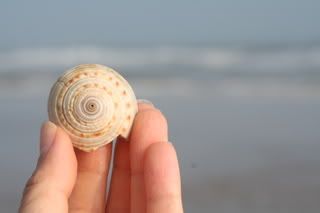 Fog began to roll in and I decided to turn back.
A few hours spent walking on the beach and thinking of the one who created it was just what I needed to put all the craziness of this time of year into perspective.
I will remember the deeds of the LORD;
yes, I will remember your miracles of long ago.
I will meditate on all your works
and consider all your mighty deeds.
Your ways, O God, are holy.
What god is so great as our God?
~Psalm 73:11-13