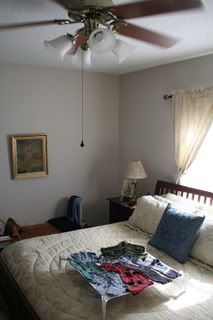 Not as charming as
Carole's method
for drying socks, but effective.
Even though many of my hand knit socks are superwash wool, I've found that the dryer is not kind to them. It's better to let them air dry. And to play it safe, I hand wash them too. Most would be fine in the machine on gentle, but I have a few pairs of 100% wool and I don't trust myself to remember which is which.
The only socks I wash and dry in the machine are the ones made from Online Supersocke Cotton (cotton/wool blend). They've been through the wringer, so to speak, and still look brand new. They receive no special treatment from me--washed with all the other dirty clothes in warm water, regular cycle and dried on medium heat. The only thing I have to watch out for are the Velcro closures on John's fishing shirts. Velcro and hand knits do not play well together.
Does anyone know of a superwash wool that does well in the washer
and
dryer?