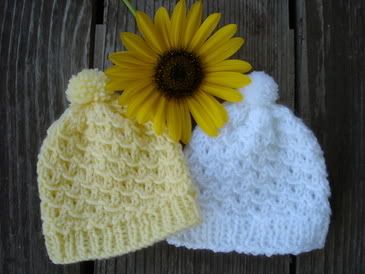 I liked the way this hat turned out so much that I knit another as soon as I finished the first!
This pattern
is not complicated and would be good for those who are ready to try lace knitting, but not ready for a big project. The finished hat is really only a little bigger than a swatch you might knit for a shawl or scarf. These two hats are going to
The Preemie Project
. I hope you will read about this charity project and join me in knitting for such a good cause. You might notice in the picture from my last post that the yellow hat originally did not have a ribbed band. As I was knitting I began to wonder about that and checked
the pattern
to find out that somehow I completely overlooked the line that said "Work 7(7,5) rows 2x2 rib"! But, I was able to fix the situation by picking up stitches later and knitting the rib. I used a 1x1 rib instead. And since I used a different weight yarn than the pattern called for, I made a few other modifications. Below is my version of Sandra Huffines Lacy Hat. Please note that
the pattern
is Sandra's and she deserves all the credit.

Modified Lacy Hat (for sm-med preemie)
Yarn: Sport or Sport D.K.
Needles: US #3
CO 54 sts.
Work 1x1 rib for 1 inch (about 5 rows I think)
Row 1: *Sl1, k2, psso, k3*
Row 2: *P4, yo, p1*
Row 3: *K3, sl1, k2, psso*
Row 4: *Pl, yo, p4*
Rpt Rows 1-4 for a total of 6 times
BO and close top.
Sew seam.
Add small pom-pom to top.