Last Saturday we went to Austin, TX to bring my son to
Boys State
. He also had to take his SAT that morning. It's a long test, at least 4 hours. What did we do with that time? Shop for yarn of course. I know, my husband spoils me.
Our first stop was
Fire Ant Ranch
in Elgin, TX. Suzanne Correira has a small shop on her place that she will open by appointment. She has her homespun for sale at reasonable prices and fiber and supplies for spinners. Look what I bought...
...three skeins of homespun and a handmade nostepinde. I'm hoping there is enough yarn for a scarf. The nostepinde is made from mulberry by Lloyd Stretton of Running Moon Farm in Louisiana. Suzanne says she remembers when that tree came down.
Running Moon Farm
is not too far from where my parents live. I think I'll be stopping by next time we go for a visit.
Next, we went to
Hill Country Weavers
in Austin. I had heard a lot of good things about this shop. And, I'm happy to report it's all true. I think this is probably my favorite so far. You wouldn't believe all the yarn they have. And because it's so well organized, everything is easy to find. I saw a lot of things I've been looking for that I haven't found anywhere else. But, I limited myself to this...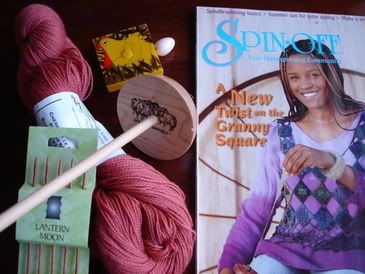 I was glad to find some solid color sock yarn and even had several colors to choose from. You probably noticed the drop spindle in the picture. I haven't given up on that yet. The summer issue of
Spin Off
has step by step instuctions with pictures on drop spindle spinning. This will really help.
We are going back to Austin on Friday to get my son. Probably won't shop for yarn this time, but maybe we'll hit the fly fishing stores for my husband...it's his turn.