Found out I was just added to the Knitting Blogs webring. So, welcome to all of you who are stopping by to check out the new kid on the block.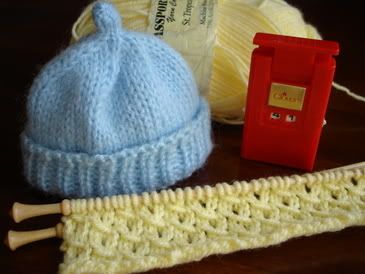 I'm back to knitting baby hats for charity. This time it's for
The Preemie Project
. This project was started by Laura at
Knits for Sanity
. It's a great project that is growing every day, but could still use your help. Laura is hoping to reach a 100 volunteers in a couple of months. Wouldn't it be nice to surprise her by reaching that goal sooner? I would like to encourage everyone to consider knitting a hat or two. As you can see from the picture, these hats are very small, so the time spent on knitting them is minimal. And, this is portable knitting at its best! Bring it to work and knit for a few minutes during your lunch break. Keep it in your purse and you'll have something to do when you find you have to wait for some reason. It's better than just sitting there with nothing to do, and you'll find you have a hat finished in no time. There are lots of
preemie hat patterns
out there. Many are simple enough for brand new knitters. (Click
here
for a basic pattern knit in the round, no seaming required.) And some patterns, like the
lace hat
I just started, will keep the interest of those who are easily bored by stockinette. Once you've knit a few hats, you'll even be able to come up with your own designs. All the information you need to get started is
here
. So, cast on a preemie hat today. It's a great way to help others!