I didn't expect to be back in this part of the country so soon, but John had a meeting to attend this week in Baltimore and Pennsylvania is just next door, so here I am.
Before we drove to the Amish Country today, we stopped for lunch at
G&M Restaurant
for their famous Maryland Crab Cakes. They are generous in size (about the size of a softball cut in half) and loaded with lots of crab meat. A definite splurge on my low fat, low cholesterol meal plan, but if you're going to blow it, you might as well go all the way. They were delicious! The best I've ever had.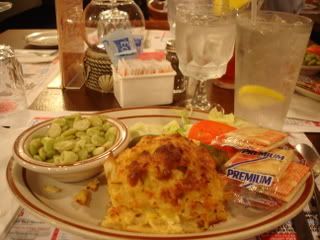 Leaving full and satisfied, we drove a couple of hours north to Bird-In-Hand, Pennsylvania, specifically to
Labadie Looms
.
On our last visit, we arrived after closing and could only peek through the window and be teased by the little bit we could see. This time we saw it all. Inside were wheels, looms, hand-dyed yarns, hand spun yarns and some nice commercial yarns too, plus a room devoted to rug hooking.
The owner was very friendly and helpful. A couple of ladies were there weaving on looms and we got to see how that process works. Very interesting. We didn't leave with a loom, but bought some roving (for me), two bundles of
poonis
(for John) and a book about weaving (John's too).
Then we quickly explored some of the other shops in the area. Most were tourist traps, but there were a few nice ones. If you are a quilter, this is your place.
Next we drove by some of the farms.
The peach trees are loaded with fruit.
And the corn is ready for picking in most fields.
I wish I could have taken pictures of the Amish people, but it just seemed too intrusive. And for the most part, I don't think they want their picture taken. Sometimes it is allowed though, because there are postcards and framed pictures for sale in all the stores. Click
here
to view some wonderful photos of Amish life by photographer Bill Coleman.