Every good traveler comes home with a souvenir of their trip. Mine just happens to be fiber.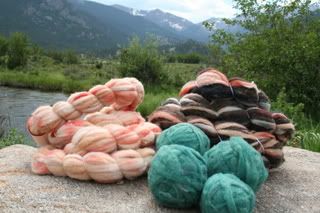 I found a great shop in Colorado Springs called
Table Rock Llamas Fiber Arts Studio
. It's on the outskirts of town in the Black Forest area. Worth a drive for yarn or fiber.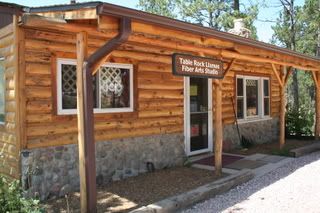 There were three rooms full of yarn. Lots of good stuff. I didn't spend much time browsing the yarn though, because I was there mainly for the fiber. There was one room in the main building dedicated to fiber and more fiber in the studio area where classes are held.
Here's what I selected.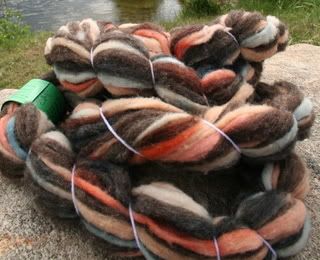 6 ounces of sheep wool dyed with natural dye extracts in shades of brown, peach and blue. The breed of the sheep is not known. The owner of the shop says the lady that supplies them with wool will only list the breed if she remembers which sheep it came from. If not, she just labels it "sheep".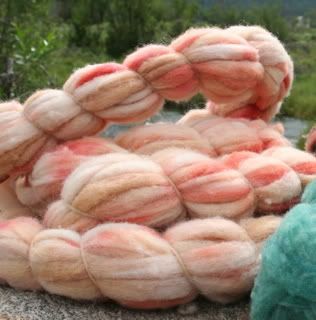 6 ounces of 100% Colorado wool dyed with natural dye extracts in shades of peach. The label on this one says it was dyed with madder (rubia cardifolia) and the mordants used were 10% alum and 1% tartanic acid. Perhaps this will mean something to those of you familiar with natural dyeing. All I know is that I liked the color which is called Red Sandalwood. You can purchase natural dyes from Table Rock Llamas
here
.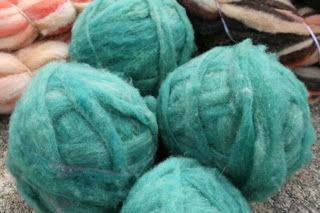 5.6 ounces of sheep wool. This fiber was a real bargain at only $1 an ounce and I got it for less than that, paying only $5 for all of it. According to the owner, this is from the early days of their business when they used to process fiber on their own. Now they send everything off to a mill in Colorado. Since the early stuff is inconsistent and not prepared as nicely as what they sell now, it is discounted and used in beginning spinning classes. I think it will spin up just fine and I really like the color.
This shop is not called Table Rock Llamas for nothing. They manage a herd of llamas (15, I think). I just happen to be there on shearing day. This guy is getting his first haircut.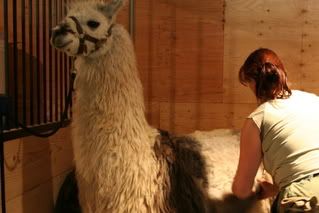 I didn't buy any llama fiber, but I did purchase a hand-tied fishing fly for John made from llama fur and guard hairs. The shop commissions a local fly-tier to make flies with the materials they provide. I chose one I thought would look tasty to a fish. It proved to be very lucky.