As soon as John was free on Friday, we drove to
Rocky Mountain National Park
in Estes Park, Colorado. Two summers ago we spent a week here, so we knew our first stop would be Moraine Park. John fished the river and I searched out new wildflowers.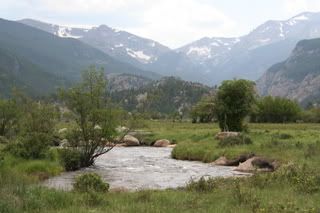 On Saturday, we woke up early to hike to Dream Lake. This is a popular trail and we wanted to beat the crowds. The views along the trail are magnificent and the lake proved to be full of native Greenback Trout.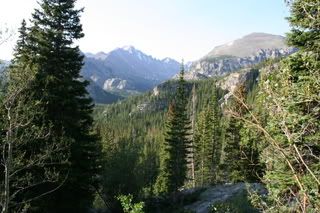 View from the Trail
Hallet Peak and Small Pool off of Dream Lake
Catch of the Day
After lunch, we drove the Trail Ridge Road. The views are awe-inspiring.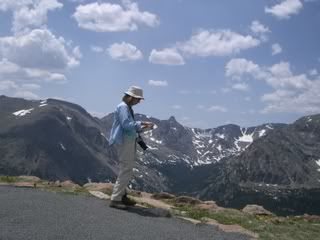 Identifying the Tundra Flowers
There was time for one more hike. We chose the Calypso Cascades trail. This trail runs along the North St. Vrain River and is a place where the
Fairy Slipper Orchid
flower is occasionally seen--perfect for a fisherman and a flower watcher. There were no Fairy Slippers this day, but a couple of fish were fooled into being caught.
Copeland Falls
Yesterday, it was time to leave all this beauty behind. I wonder where people who live here go on vacation? Wherever it is, I bet they can't wait to get home.