With each session at the wheel, a lesson is learned.
A couple of weeks ago, I drafted some of the gray
mystery wool
Amy gave me and began to spin it. My plan was to match it to the
darker yarn
I had spun earlier, since I plan to use them both in the same project.
What I spun turned out okay, but a lighter weight than I was aiming for and plied tighter than it should be. I was undecided how to spin the remainder, not knowing if I should match it to the dark yarn or to what I had just spun, so I set it aside to get ready for our trip to Colorado.
When I got home I was very anxious to spin up some of the new roving I had purchased on our trip. I got busy right away with the
brown mix
. I decided to spin the brown and the dyed sections together since that is how they were joined in the roving. I thought it would create a nice tweedy effect. I was in trouble right from the start. The fibers of this wool were shorter than I'm used to and it took some time to figure out how much twist to spin into it. Even after I felt I had it right, some of the fiber was determined to be stubborn and resist the twist. And the tweedy look I had imagined? It just turned out to be a mess.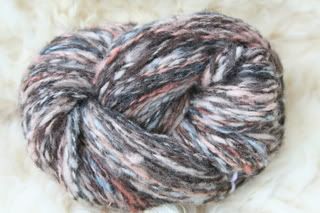 I decided it would be much better to spin the brown and dyed sections separately. It wasn't too hard to divide the two. The brown was much easier to spin than the dyed. I guess the dying process changes the the texture of the wool some.
I like the plied results much better this way and will continue in this manner with the remaining roving.
Even though this wool was a challenge to spin, it did not discourage me. On the positive side, it made spinning the rest of the gray mystery wool a breeze. And this time the yarn I spun was just what I was hoping for.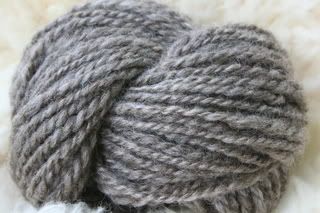 I feel somewhat redeemed by this hank of homespun.