I finished the Labyrinth Scarf...twice.
Take One
The contrast color I chose was some leftover Manos del Uruguay in persimmon. I thought I would like the bold color against the drab brown and at first I did, but after a couple of days, I knew it wasn't really me. The brown and orange combo kept bringing me back to the early 1970s and the thick and thin nature of the yarn wasn't helping to create a clean finish to the bound off edges. The only thing to do was to rip out the orange yarn and replace it with something else.
Take Two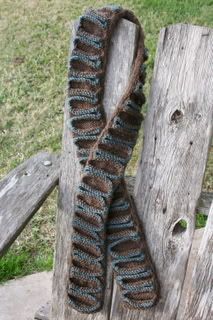 This time I went with a yarn that was uniformly spun and less dramatic in contrast to the brown. It's a more modern color combo too. I like this version a lot.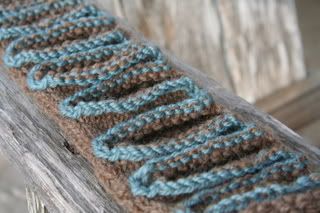 Labyrinth Scarf
Design by Lynne Barr
Knitting New Scarves
Yarn:
Hand Spun Shetland Wool and Brown Sheep Nature Spun
Color:
Brown and Ecucalyptus
Needles:
US 10 DPNs
Construction:
This scarf is knitted in the round. Every few rounds a yarn slit is constructed (like you might do to add a pocket to a sweater) and the stitches are held on waste yarn. To finish, the waste yarn is removed one slit at a time placing the live stitches on two double pointed needles. Beginning with the lower needle the stitches are bound off with a contrasting color yarn. A few stitches are picked up on the side to bring the cast-off edging up to the upper needle. This process is repeated until all stitches are bound off in one continuous edge that snakes up the entire length of the scarf. Clear instructions and step-by-step pictures are included in the book.
I really enjoyed knitting this creative scarf, even if it did take me two tries to get it right.