Yarn always makes the best souvenir, in my opinion. On our trip to Utah I seemed to acquire more than usual. However, each skein of yarn was purchased with a specific project in mind.
My only purchase at
Three Wishes
was cotton chenille for washcloths. This was on my list of yarns to look for and I was happy to find some in the sale bin.
At
The Wool Cabin
I was tempted by Alpaca Sox which will become a pair of luxurious socks for me.
And, a hank of Spunky Eclectic Super Nova: a superwash Merino sport weight. It can be used for socks, but I think I'll make up the store's shawl pattern that was free with the yarn. This pretty color is called Utah Sunrise.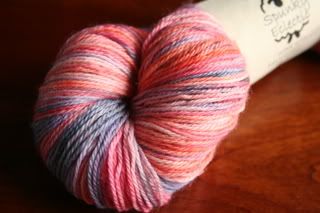 I walked out of the
Needlepoint Joint
with several hanks of Inca Alpaca for a hat and scarf that were in the shop. Those store samples really do help to sell the yarn.
At each shop I asked about
Peace Fleece
. No one had any. Evidently it's too new or not widely distributed. Most shop owners had never heard of it, though it seems to be very popular in the knit-blogging community. I'll order some online when the time is right, but for now I have plenty of new yarn to keep me busy.