We made it home to Texas safe and sound. It's not as warm as I had hoped for, though I'm sure this cold snap won't last long.
We made the most our last day in Utah. Took the long way down from the Heber Valley through Ogden (there's a nice yarn shop there) and spent the afternoon on
Antelope Island
.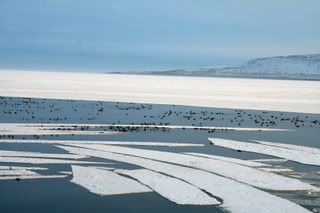 The
Great Salt Lake
is frozen in most places, but where it is not, the ducks congregate--many varieties. The hawks hang out there too--looking for a good meal--as do bald eagles, we were told, though we did not see one.
We saw bison,
coyote,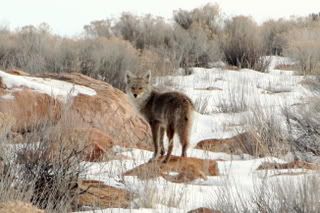 rabbit, chuckar partridge and porcupine.
The scenery was beautiful and since it was cold and overcast, there were very few people out. It felt like we had the whole island to ourselves.
This is my favorite picture of John from that day.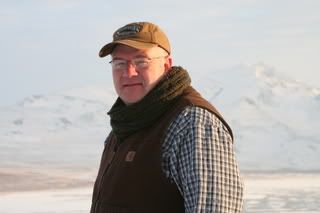 He's wearing an
Irish Hiking Scarf
.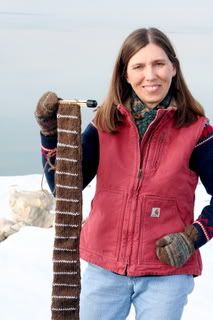 And, I'm holding a new scarf I'm knitting from what was left of the brown Shetland handspun. The pattern is
Labyrinth
(picture #17) from
Knitting New Scarves
by Lynne Barr. This interesting scarf is knit as a tube in the round. The white stripes you see are waste yarn, holding stitches that will be bound off later in a contrasting color.
The sun broke through the clouds briefly at the end of the day sending a shaft of light upward toward the heavens. With so much beauty all around, I could not help but think of the one who created it all.
Psalm 19:1
The heavens declare the glory of God;
the skies proclaim the work of his hands.