We were blessed with beautiful weather on the last day of 2007. It was the perfect day to try out the "big gift" I hinted at last week. I gather many of you were scratching your head trying to figure out what type of gift uses accessories like a *milk crate, cargo net and dry bag. I probably should have told you that it also comes with a PFD (personal flotation device) and a paddle.
My gift from John is a kayak.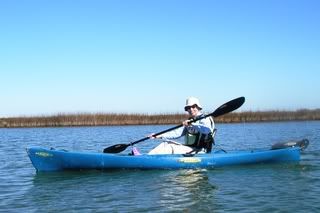 This one is on loan from the shop until the one we ordered arrives. It will be exactly the same, minus the rudder. John has put together a nice video of our day together on the water. Click
here
and scroll down if you would like to see it.
My View

Notice the hand knit socks.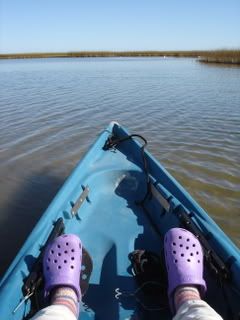 Fishing Couch

I'm not sure if this couch was dumped here or put here on purpose.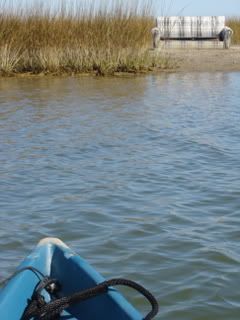 One New Sock

This pair of socks is flying off the needles. The yarn is the reason, I think. It's Colinette's Jitterbug in the Toscana colorway. Short bursts of bright color on sage green is keeping it exciting.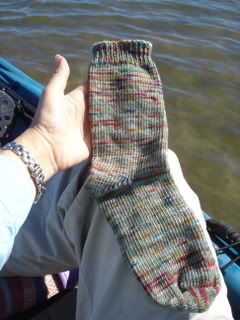 Beach Stroll

After our paddle in the lake behind the dunes, we stretched our legs on the beach and enjoyed the setting sun.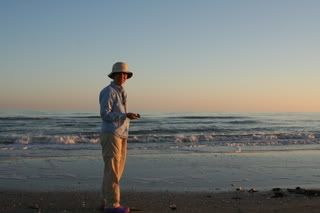 The biggest surprise of 2007 for John and me was discovering our love of Matagorda. I look forward to more days like this in 2008.
Happy New Year!
*
A milk crate in a kayak is very useful for holding things. A cargo net will keep everything in place. A dry bag is self-explanatory.