Finished! I always forget how long it takes to sew up a sweater. It took me 10-12 hours over several days. Some people dread seaming, but I actually enjoy this part of the process. I love to see the pieces come together. Anticipation builds with each stitch until finally it's done and ready to wear.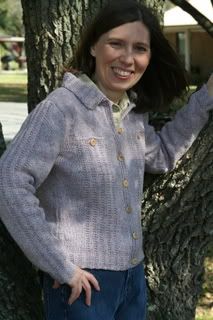 I had been warned that this yarn has a tendency to stretch out when it is washed, but it held it's shape and did not change at all after a soak in a warm bath.
The garter rib detail adds just the right amount of interest to the front panels, arms and collar.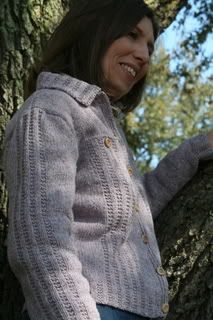 Pattern:
Cotton Cardigan
Book:
Sarah Dallas Knitting
Yarn:
Cestari, 3 ply D.K., 75% Cotton, 25% Wool (just over 4 skeins)
Color:
Raspberry
Needles:
US 2 and 5 (went down a size to get gauge)
Size:
Small
Pattern Corrections:
As noted
here
.