Sunshine and warm weather are good for the soul. After a very dreary winter, we are getting our first taste of spring. It feels wonderful! The heater is off, the air conditioner is not needed and the windows are wide open. I've accomplished much this week including good progress on the cotton cardigan. I still have hopes of finishing it by the end of the week. The second sleeve is almost done, leaving the button band and the collar left to be knitted and after that, the seaming.
While working on this sweater, I've been thinking about my early days of knitting. I learned to knit about four years ago. It was my goal from the beginning to knit sweaters. I started with scarves, hats and lots of dishcloths until I thought I had developed enough skill to attempt what I felt was the ultimate knitted garment--a sweater. It was probably almost a year before I gave it a try. I'm cautious like that.
My first sweater was made from Lion Brand Homespun. I didn't want to spend much money on the yarn, because I wasn't sure it would even turn out to be wearable. I deliberately chose a simple pattern. I think it was called Back-to-Basics Sweater.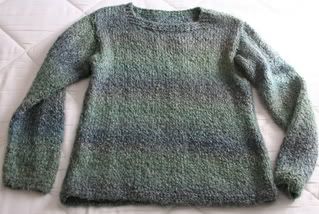 I received many compliments on this sweater, but told only a few people that I had made it myself. I don't think they could tell and that boosted my confidence as a knitter. Acrylic yarn is not usually that comfortable to wear, but this yarn is very soft and I didn't mind it.
My next attempt at a sweater a few months later was from a pattern published in one of the
Knit It
magazines. It was called My First Cardigan. It came with detailed instructions and good pictures. Knitting a button band seemed challenging to me, but the instructions were so detailed, I felt I would be able to do it. Back then, just reading a pattern could be confusing and it was scary to think about what would happen if I made a mistake, because I had no idea how to fix them. Often it would mean ripping everything out and starting over. I used the yarn recommended which was Lion Brand Wool-Ease Chunky.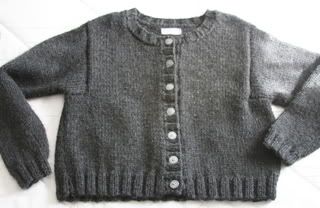 I was very proud of how this boxy cardigan turned out. Somehow I made it through the button band without one mistake. Since those early days, I've learned that nearly all mistakes in knitting are fixable, so I don't worry about that anymore.
I was really lucky that both of these sweaters fit me, because I didn't knit a gauge swatch for either. I just used the recommended yarn and needles and somehow it worked. I was still so new to knitting that I didn't completely understand how to count my stitches, so a swatch would have been of no value anyway.
With each project a new skill was learned and eventually all things began to make sense. So here I am, four years later, knitting with more confidence and understanding, but still enjoying each stitch like it was my first.