I was very close to finishing my sweater before our trip this week to Utah, but it was not to be. I left it partially seamed and waiting for my return. The button band is attached, the pockets are sewn down and one sleeve cap has been eased into place. A couple more hours of work and it will be ready. It's going together nicely and looks like it should fit. I'm keeping my fingers crossed.
We flew to Salt Lake City late Sunday afternoon. The view of the mountains from the air was spectacular! I wish I had taken pictures. The sun was shining and the air was clear and fresh. Today it was a little bit on the cloudy side, but warmer than yesterday.
I stopped by
Black Sheep Wool Co.
this morning to see what was new and ended up buying some Trekking sock yarn in shades of purple. Then later this afternoon, I met
Margene
at
Three Wishes
. There's a nice write up about the shop
here
.
It was a short, but wonderful visit. She helped me spend some money on roving (pictures later) and we spent our time talking about "the process" of spinning and knitting. I picked up several spinning tips that I'm anxious to test out. Margene is a great encourager (or is it enabler?) when it comes fiber arts. I've learned so much from her and I'm happy to call her my friend.
I was supposed to pick John up from work at 5:00. I was there in time, but his meeting ran about thirty minutes over. This seriously cut into his trout fishing time as it was almost dark by the time we got to Snake Creek in the Heber Valley. He got in a few casts and I got a few pictures before it was totally dark.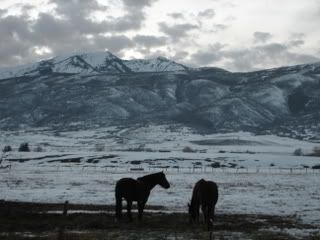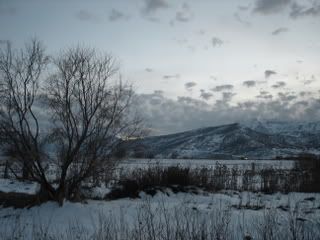 We fly back to Texas tomorrow. I'll miss the mountains.