If you are ever in the Salt Lake City area, you really need to stop by
Three Wishes Fiber Arts
in West Jordan. It's one of the best yarn/fiber stores I've been to (and I've been to many). It caters to knitters, spinners and weavers. Something for everyone.
I met
Margene
there on Monday and she helped me select some beautiful rovings for spinning. She encouraged me to get a variety of fiber types. My fiber stash is growing by leaps and bounds.
Snake River Fiberworks

Blue Faced Leicester

Autumn Leaves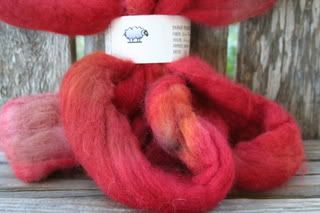 This roving was dyed by
Kate Robertson
of Idaho Falls, Idaho. The colors are bright and vibrant just like the reds and oranges of the fall leaves in New England. I know several bloggers that spin this wool for socks. It's usually referred to as BFL and until now I never knew that meant Blue Faced Leicester. I'm such a newbie!
Wasatch Watercolours

Fine Range Wools

Fish Lake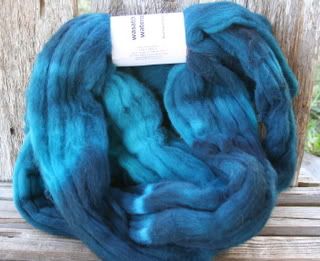 This roving is dyed locally by
Judy Ede Jackson
of West Jordan. It ranges from light blue-green to deep indigo. The wool is soft--a little like Merino. When I saw the name of the color, I couldn't pass it up, being that my husband is such a fishing fanatic.


Wasatch Watercolours

Corrie X

Wild Child

The colors in this one are burgundy, violet and browns. It's all over the place and should be fun. I can't imagine how it will look when spun. What looks wild now may become very subtle. I'm assuming that Corrie X means it's from a Corriedale Cross. If that's not right, let me know.
Alta Mist Alpacas

Alpaca

Pizzaz
Janet Otterness is responsible for this beauty. Her farm is in Herriman, Utah. I see from her
website
that visits to the farm can be arranged by appointment. I would love to do that on one of our trips. This fiber is going into the "save" portion of my stash. Before I spin it, I want to be more experienced, so that I can do it justice.
All of these fibers weigh about 4 ounces. I think that's a good amount to practice with and enough for a small project.
I learned from Margene about a fiber of the month club she joined called
Spunky Fiber Club
. For $15 (includes shipping) you receive a different fiber in a different colorway each month. The fibers will vary from wool to alpaca and silk and some blends. Most amounts will be 4 ounces. It depends on the type of fiber though. I'm really interested in this. What do you think, John?