I have a couple of projects on the needles right now: a hand towel from Mason Dixon and a pair of socks that only seem to get attention when I travel. Neither one of these projects was anything I wanted to work on yesterday. I was in the mood to knit for the babies. So out came the pink and blue yarn, my binder of patterns and my favorite needles. Some things just never get old. I love to knit tiny hats.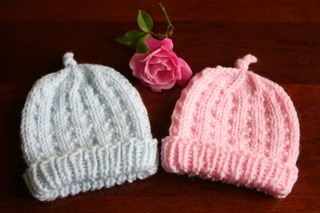 Pattern:
So-Soft Preemie Hat
Yarn:
Dreambaby D.K.
Needles:
US 5 DPNS
Number of Stitches Cast On:
42
Size:
To fit a baby up to 3 pounds
This is the first time I've used this pattern, but it won't be the last. If you check, you'll see I've already added it to my favorites list. The design is simple, but elegant. Perfectly sweet for a wee one.