Buy a spinning wheel, some wool roving and a how-to video.
Watch video and marvel at how easy it looks.
Treadle and draft, treadle and draft, treadle and draft...and then realize this is going to take some practice.
Slow down, be patient and spin up some very crude looking yarn.
Take pictures of this yarn and post it on your blog.
Be encouraged by everyone that comments and begin to look at your first handspun in a different light.
Find the perfect project and knit your first yarn into something useful.
Enjoy, enjoy, enjoy!
Start all over again.
Handspun Pillow
I had so much fun knitting this pillow! Not only did I get to use my first yarn, I also got to use the Brittany Black Walnut needles (US 10 1/2) that John gave me. It's the little things that make me happy. The pattern that inspired this project is Garter-stitch Pillow from Sarah Dallas Knitting.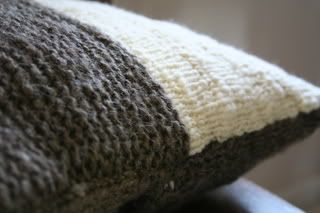 The rustic nature of my homespun adds texture to the knitted fabric. The finished look is a little like a child's crayon drawing--beautiful in it's imperfection.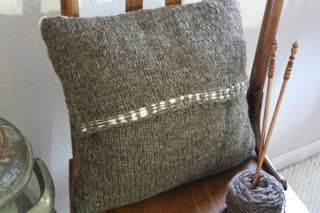 On my version, the back is worked in one color in stockinette stitch. A few strands of merino singles are run through the ribbing to add contrast and interest.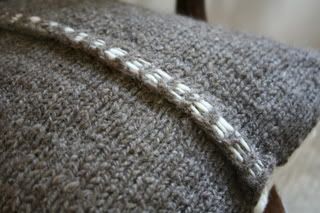 Time to spin up some more yarn. I have lots of pillows around the house that could use a face lift.