It isn't easy to know what to say to someone who has lost a child. No one wants to bring up sad feelings, but remaining silent is often worse than saying something. Mama Bear has a helpful
post
about this very subject.
Recently on the
Lucy Ladybug Knit-Along
, a
request
was made by a member wanting to help her friend deal with the loss of her baby. Her friend has a fear that as time goes by, no one will remember her precious daughter, Marlowe. Her plan is to donate 200 baby items in Marlowe's name and then present a photo scrapbook of all the items to her friend as a tribute to Marlowe. Anyone can help. Just make a baby item, donate it in Marlowe's name to the charity of your choice, then email a picture of your item to the address
here
.
This bunting is going to
The Preemie Project
in memory of Marlowe.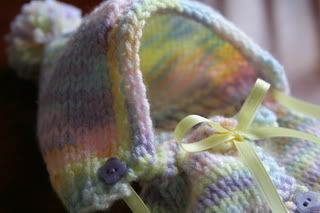 Pattern:
Inspired by
Burial Bunting With Hat
Yarn:
Caron Simply Soft
Needles:
US 6
Size:
1-3 lbs