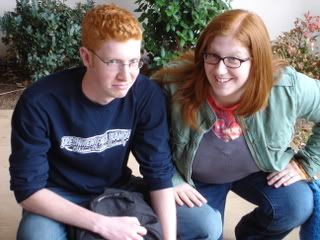 Last weekend we went to Oklahoma to visit Matt and attend
Spring Sing
. At the last minute, Robyn was able to join us. I didn't expect to see both of my kids on this trip, so I was a very happy mom!
While Matt was working the Spring Sing shows on Saturday, we took Robyn to the
Oklahoma City National Memorial & Museum
.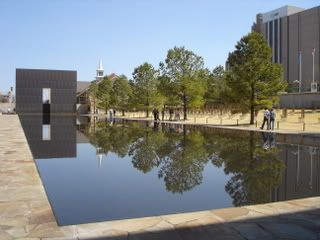 This memorial is a tribute to the victims, survivors and rescuers of the 1995 bombing of the Murrah Federal Building. It is a moving experience, overwhelming at times, but beautifully done. It is important to remember the tragedy of that day. It is all summed up in the mission statement:
We come here to remember those who were killed, those who survived and those changed forever. May all who leave here know the impact of violence. May this memorial offer comfort, strength, peace, hope and serenity.


The Gates of Time
To enter the memorial you must walk through one of two gates. These gates frame the moment of destruction--9:02. The East Gate bears the time 9:01 which represents the innocence of the city before the attack. The West Gate bears the time 9:03, the moment everything was changed forever.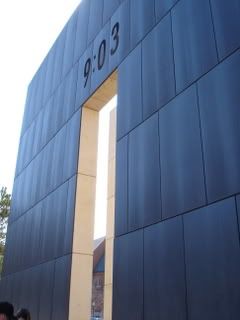 Field of Empty Chairs
168 people lost their lives in this tragedy. Each victim is represented by an empty chair. The chairs are placed in nine rows, representing the nine floors of the building. Each chair bears the name of a victim and is placed according to the floor on which those killed worked or were visiting. The small sized chairs remind us of the children that died.
The Survivor Tree
This 90 year-old American Elm tree sustained much damage from the the bombing. It was charred and broken then. Over the years it has been nurtured and cared for and it's scars are not a noticeable now. It is a symbol of human resilience.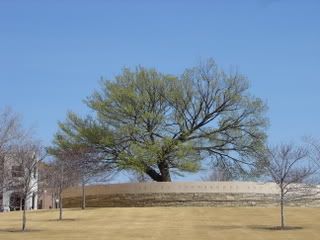 Photography is not allowed inside the museum. It is better if you don't know what to expect when you visit anyway. It is an interactive experience and you will be changed when you leave. Bring Kleenex.