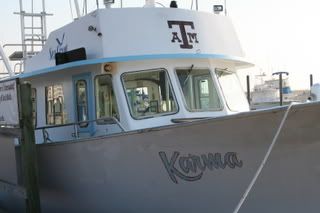 On Saturday we took the Discovery Cruise on the
R.V. Karma
, a 57-foot teaching and research vessel that is a part of
Texas A&M's Floating Classroom Program
. It's home port is Matagorda Harbor in Matagorda, Texas. Captain Tom Klaiber guided us down the Intracoastal Canal while Coastal Naturalist Doyle Schaer educated us on marine life. This program was geared to the children, but fun for everyone.
A plankton net was dragged behind the boat and we got to see what we collected under a video-enhanced microscope.
Mud samples were taken and sifted through and also viewed under the microscope.
We learned how a shrimp net works and did a little trawling of our own. Our net came up with shrimp, a variety of fish and some squid. These were put in tanks where everyone could pick them up or touch them if they wanted.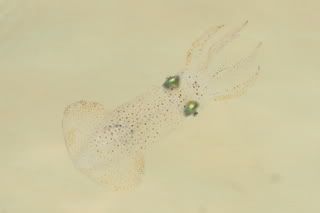 Public cruises
like the one we took are offered on the first Saturday of each month. It was really a lot of fun and I highly recommend it.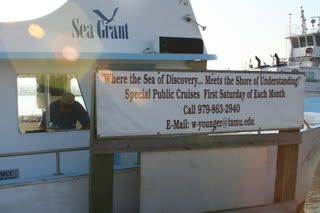 I liked their slogan:
Where the Sea of Discovery Meets the Shore of Understanding


~~~~~~~~~~~~~~~~~~~~~~~~~~~~~~~~~~~~~~~~
Knitting can be a discovery cruise too. There is always something to learn whether you are a novice or expert. That's what keeps it interesting. I wonder what I will discover with this new project?
Flower Basket Shawl