I finally finished up the skein of *TLC Baby in New Mint Sparkle!
Preemie Diamond Lace Hat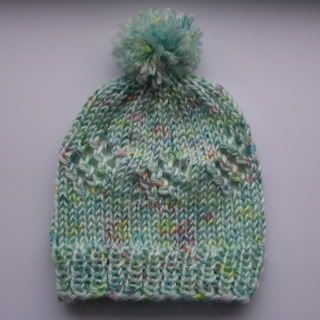 I made this one smaller than the pattern. It's worked on 48 stitches using US 5 and is size 1-3 pounds.
Preemie Rolled-Brim Hat
I cheated on this one. It's knitted with two strands of yarn held together just so I could use up the yarn faster and move on to something else. And wouldn't you know it? I ran out of yarn on the last couple of decrease rows. I substituted a solid green in the same shade to finish and added a solid green pom-pom.
I felt somewhat relieved when I used up all of this skein of yarn. It's nice yarn, a good color, very soft and works well for preemie hats, but sometimes enough is enough. Ready for a change, I went to the stash right away to look for yarn suitable for mittens for the
Soaring Eagles Project
and guess what I found?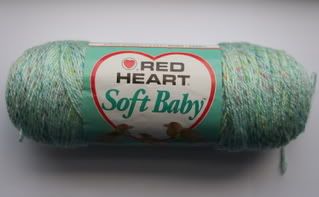 Another full skein of yarn that looks
very
familiar. This one is Red Heart Soft Baby in New Mint Twinkle. The label may be different, but believe me, it's the exact same yarn. I think I'll try to forget I saw it.
*
TLC Baby is manufactured by Red Heart