Just outside of Fredericksburg, Texas is
Enchanted Rock
, a huge, pink granite exfoliation dome that rises 425 feet above ground. It's one of the largest batholiths (underground rock formation uncovered by erosion) in the United States.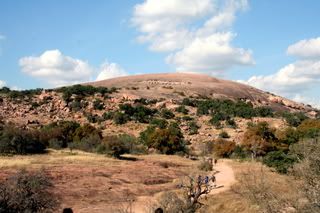 John and I went there to hike to the top and to take pictures of my newly finished scarf.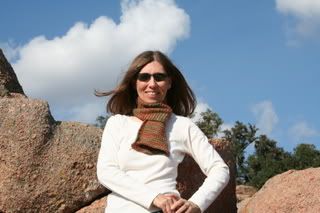 My So Called Scarf
Yarn: One skein of Brooks Farm Yarn Four Play (50% Fine Wool, 50% Silk)
Color: Boots
Needles: US 10.5 (6.5 mm)
Size: 5" wide by 48" long
Worked on 34 stitches
My plan was to knit this scarf until I used up a full skein of yarn, but when I ran into a knot near the end, I called it finished. It is still long enough to wear doubled and works well for me since I'm not very tall. The leftover yarn from the skein would have added a couple of inches to the length. I still have one more skein to do something else with...maybe a hat and mittens.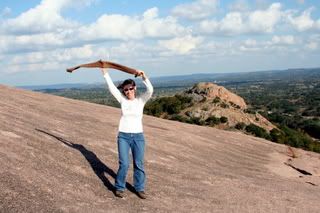 It's a bit windy near the top of the Rock, but the view is great! I kept a tight grip on the scarf and we made it to the summit in fine shape. John and I sat up there for a while, took in the scenery and reminisced about other trips to Enchanted Rock that we took with the kids when they were little.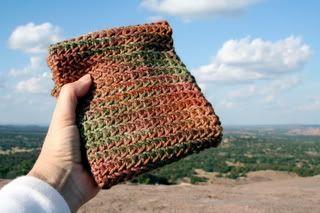 On the way down we had someone take our picture.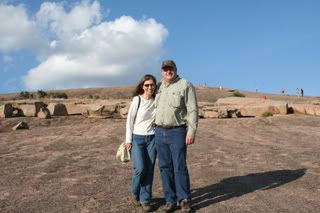 I can't think of a better way to spend an afternoon.
If you are planning a trip to Enchanted Rock, I recommend checking out
E-Rock
before you go. Take the virtual field trip and learn about the geology of the area. The site includes lots of pictures and links.