The sun is shining today, but it's been cold and rainy here ever since Thanksgiving. The perfect weather to stay inside and
Knit Unto Others
.
Last post, I was looking for yarn in the stash to knit mittens for the
Soaring Eagles Project
. Since the yarn should be washer and dryer friendly, I ended up in the acrylic bin. What I have in there is mostly pastel colored yarn for preemie hats, but I found some colors suitable for elementary aged children.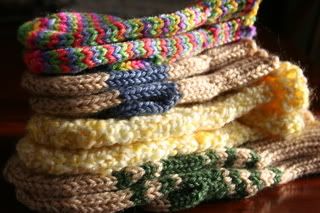 I started with a pattern called
Child's Mitten
. It's based on Elizabeth Zimmerman's adult mittens. I had so much fun with the first pair, that I immediately knitted a second pair.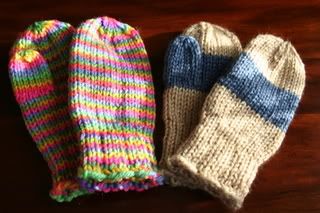 Next, I tried
45-Minute Mittens
(link on the side bar) by Susan B. Anderson, using Lion Brand Homespun and US 10.5 needles. I like the nubby texture of these mittens.
And then, I tried the pattern for
Tweedy Mittens
, though the yarn I used is not tweedy at all.
Mittens are very satisfying to knit. I could have kept going, but I decided to move on to another charity project for this week. I might squeeze in another pair though. We'll see.