007 Snap a Dozen Days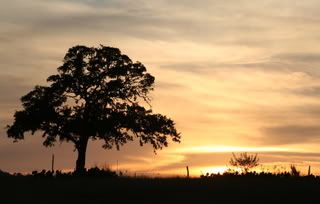 In the Hill Country
Cypress Creek, Texas
I like the way trees look this time of year, especially after they drop their leaves (see photo below). The exposed branches against the sky are interesting to me. It won't be long before the pecan trees will be bare. They are my favorite. Right now pecans are dropping and the harvest is predicted to be a good one because of all the rain we had this summer.
I always think of November as birthday month. Three out of four of our family were born in this month--John, me and Robyn. I used to worry that Matt felt left out this time of year when he was little, but he says he never thought about it. It's a month of cake and candles.
Then of course, it is the month of Thanksgiving. This year our gathering will be small--just John, Matt and me. We'll still have turkey and the works, but I'll try to remember I'm not cooking for a crowd so we don't have tons of leftovers.