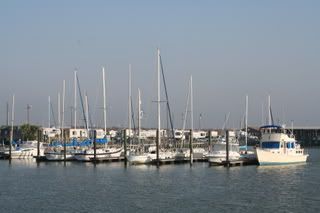 Our camping trip this weekend in Matagorda was wonderful! John was able to fish until his heart's content and I was able to relax, walk the beach and knit whenever I wanted. I brought along my socks that I finished just before the trip and photographed them at the harbor while we were waiting for the
Discovery Cruise
. More about that next time.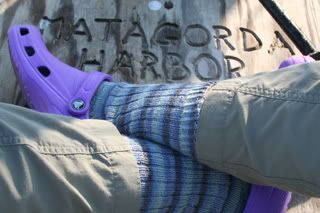 Basic Sock:
64 stitches, twisted rib cuff, 3x1 leg, short-row heels and toes
Yarn:
Mama Llama Original Sock
(100% superwash wool)
Color:
Blue Jeans
Needles:
US 1 (2.25 mm) dpns
Catherine
did an excellent job dying this yarn! It's possible that I may see her at
Kid 'n Ewe
on Saturday. I hope so. I'd love to show her these socks in person.