You may
remember
a while back that I decided to use one skein of yarn and see how many different preemie hats I could come up with. Well, I'm back at it and for the rest of the month I'll be focusing my knitting efforts on
Knit Unto Others
. I have three hats to show that will be going to
TPP
Michigan.
~~~~~~~~~~~~~~~~~~~~~~~~~~~~~~~~~~~~~~~
Preemie Twinkle Hat
This time I made sure to use garter stitch as is pictured in the pattern. Last time I used stockinette stitch (click
here
and scroll to last picture for comparison). Either way makes a cute hat. I like both. I'm not sure I have a favorite, though I will probably make the stockinette one more often, because it went faster. Both were knitted in the round.
~~~~~~~~~~~~~~~~~~~~~~~~~~~~~~~~~~~~~~~~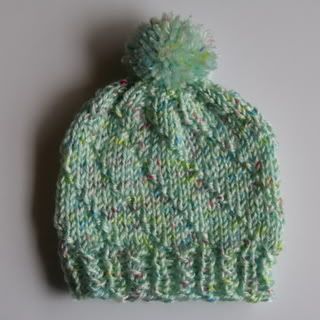 Shadow Stripes Hat
This was a fun one to knit. The design is by Patti Pearce Stone. If you've ever used any of her patterns before, you know she pays special attention to little details. For instance, she could have easily gone with a 2x2 rib for the band of this hat, but instead she came up with a slip stitch combination that is very interesting. It's not hard to execute, but takes a little more effort. When I first began knitting preemie hats I passed over many of her patterns, because slip stitches and yarn-overs were still kind of new to me. I think it's time to go back and see what I've been missing.
~~~~~~~~~~~~~~~~~~~~~~~~~~~~~~~~~~~~~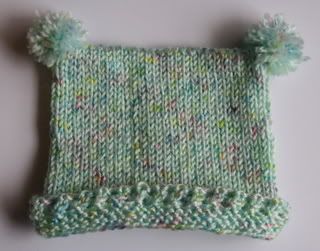 I don't have a name for this hat. It started out to be a preemie version of
My Hat of Choice
, but I changed my mind after the first repeat of the stitch pattern. I've made a grown-up size hat from this pattern that I'll show you some day, so I know the preemie version would have turned out really cute. It just would have taken longer to knit than I had for one sitting.
~~~~~~~~~~~~~~~~~~~~~~~~~~~~~~~~~~~~~
Believe it or not I still have some yarn left from the one skein of TLC Baby--enough for three more hats maybe. So far I've knitted six size 1-3 pound hats and one size 3-5 pound hat from a single skein of yarn that cost only $2.99. Knitting for others costs very little in money and only slightly more in time. Besides, it's fun!