Here I am in
Rockport, Texas
with my new *knitting project.
We drove over on Saturday to look around and to paddle the kayaks. I lived in Rockport when I was in high school. In 1978, my first summer job was at the Sea Shell Shoppe. Walking into that store this weekend, was like stepping back in time. Nothing had changed: the same shelves, the same layout and if I'm not mistaken, some of the same merchandise.
The Sea Shell Shoppe may not have changed much, but the town certainly has. It has grown and flourished. Tourism is still big business though. This time of year, the RV parks and vacation rentals are filled to capacity with people from colder climates. We used to refer to them as Snowbirds, but now we call them Winter Texans.
After our tour and my remembering how things used to be, we went to
Goose Island State Park
where we intended to paddle, but after checking it out, I changed my mind. While we were there, we stopped to see
Big Tree
.
It's surrounded by a fence to keep people from getting too close, so it's impossible to get a perspective of it's size. More impressive than its size to me though, is its age. It is estimated to be over 1000 years old.
Afterwards, we decided to check out
Lighthouse Lakes Paddling Trail
in
Aransas Pass
. We should have come here first. This type of paddling is what I'm most interested in.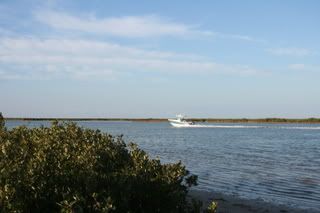 You can't tell from the picture, but on the other side of the boat channel is a series of mangrove-lined estuaries. It's advised to paddle with a map of the trail and a GPS, as it's easy to get turned around in the maze of channels. We're coming back when we have more time. It was too late in the day to start out on a serious paddle.
As long as we were so close, we took the ferry across to
Port Aransas
. Drove out to the beach and walked along the jetty until about sunset, then found a nice restaurant on the harbor to eat dinner.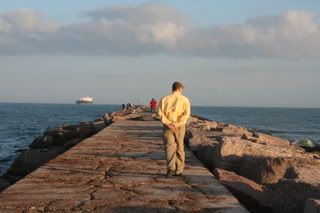 It was a very full and enjoyable day. Round trip (including all the driving after we were there): 370 miles.
* I'm working on a scarf. The stitch pattern is K3, P3 for one row, then P the knit sts and K the purl sts on the next row. Yarn colors are alternated every two rows creating an interesting design.