I first saw a scarf like this one knitted as a store sample in Ogden, Utah. If you purchased the yarn, the store threw the pattern in for free. This sales tactic worked. I bought the two hanks of Inca Alpaca it required for $8.00 each--a bargain, in my opinion, for such a luxuriously soft yarn.
Photo Styled
Two Color Inca Scarf
Yarn: 2 hanks Classic Elite Inca Alpaca (100% Alpaca)
Colors: 1124 (Blue), 1103 (Gray)
Needles: US 7
Size: 7" wide x 43.5" long
Started: 2/7/08
Finished: 2/19/08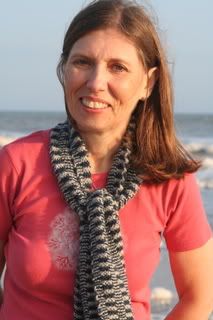 Scarf In Action
This was a very quick and easy scarf to knit. It utilizes a stitch pattern that I call the prayer shawl stitch. If it has an official name, I couldn't find it, but it's the same stitch used in
this pattern
. Simply k3, p3 on the first row and then purl the knits and knit the purls on the second row. Change colors every two rows and an intricate design of stripes, blocks and columns fall into place like magic. You will notice (first picture) the scarf begins and ends with three rows of regular 3 x 3 rib.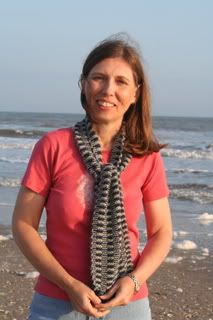 Full Length View
This scarf is extremely soft with a nice drape; stretchy, but with plenty of memory to hold its shape; and completely reversible. All these qualities make it extremely versatile and will likely become one of my favorites to wear.
In fact, I will probably make it again. I think it would look good as a stash buster scarf, using lots of colors of whatever is on hand.