I've been in a sock knitting rut lately, knitting only simple stockinette stitch. But no more! Here's proof that I can actually execute a yarn-over and even carry the stitch pattern across the instep. It's been a long time, I know.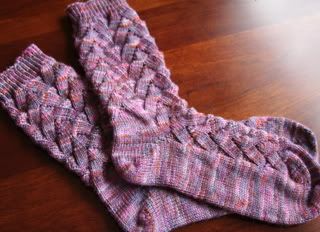 Monkey
Yarn: Pagewood Farm Hand Dyed Sock Yarn
Fiber Content: 70% Merino, 20% Bamboo, 10% Nylon
Color: Butterfly
Needles: US 1 (2.25 mm) DPNs
Start: 2/4/08
Finish: 2/20/08
Lifetime Total: 23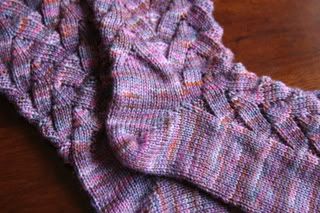 Of course, I had to stick to my preferred heel and toe: short-rows the
PG-R way
. It was a perfect match for these socks. I worked six repeats of the lace pattern, then began the set up for the heel. It always looks better to have about an inch of stockinette stitch before starting the short-row shaping. This required working one more repeat.
I don't think I caught the fever to knit multiple pairs of Monkeys like some people, but I did enjoy making them. The best part of these socks to me though is not the pattern, but the yarn. The bamboo content gives the yarn a silky feel. Heaven to knit with and oh so comfortable to wear. This is my favorite sock yarn so far.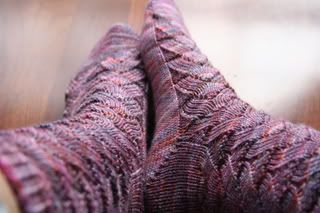 My next pair of socks is well underway and they aren't stockinette stitch. See, I really am out of my rut.