From Start to Finish
Begin with yarn suitable for felting. Whatever you choose should be equal to two strands of bulky weight held together. I used one strand of
Caron Felt-It
and three strands of
White Buffalo Canadian Unspun
.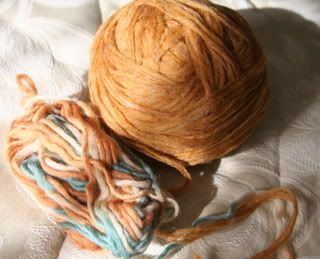 These colors look good together: Adobe and Goldenrod.
Get out your copy of
Mason-Dixon Knitting
and size 10 (6mm) needles. Turn to page 60 and follow the simple pattern. In just a few hours you will have knitted the whole thing.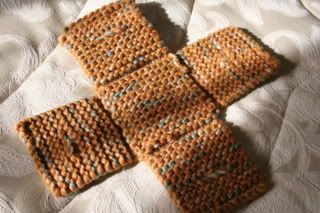 That didn't take long at all!

Clever "fold lines" are the key to square construction.
Time to sew it up. You'll need a crochet hook for this part. Don't fret it though. No special knowledge of crocheting is needed. Step-by-step illustrations take you through the whole process. It's easy!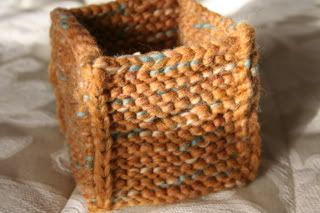 Looks a little crooked, but it will all straighten out in the wash.
Machine wash in hot water on the lowest water level setting with a little soap and a lot of agitation. Take it out when it looks right to you. Shape and allow to air dry (this might take a day or two). Trim off excess fuzz with scissors (my preference) or a disposable razor. Fill with treasures of your choice and enjoy.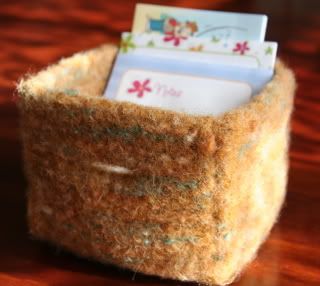 All finished. That was fun!
This is the small box. Mine turned out to be 4" x 4" x 3". Just right for holding an assortment of Post-It Notes.