It was warmer on Saturday, so we took the kayaks to Matagorda. By the time we got to the water though, the weather began to change and our blue skies were replaced with gray.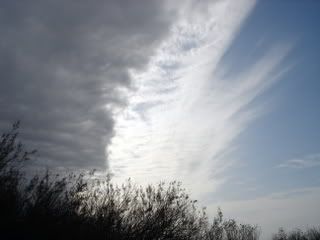 We decided it didn't look
too
bad, so we launched anyway.
The transitioning sky entertained us as did the pelicans.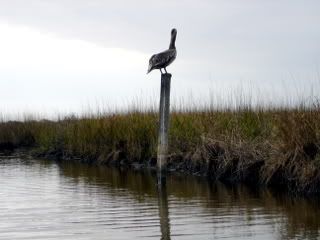 We spooked a couple of wild hogs and they swam across the channel to get away from us. It all happened too quickly to get a picture.
Soon it was too overcast for good pictures and the plan I had of photographing my new blue socks was put on hold. It has been gray and dreary ever since.
This morning the sun broke through the clouds just long enough for a couple of shots.
Simple Socks
64 stitches, Short-row heels and toes
Needles: US 1 (2.25)
Gauge: 8 stitches per inch
Yarn: Trekking (XXL)
Color: 77
I really like how the transition of color creates subtle stripes in the knitted fabric. And the blue makes me happy.
Won't it be wonderful when the sky matches the color of these socks? I'm so ready for that!