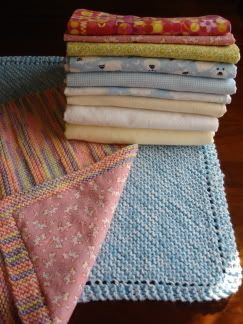 These are the blankets that I knit on my vacation. I used
this pattern
for the blue one. With two strands of baby yarn (blue and white) held together, I knit the increase side until it was as big as I wanted, then began the decreases. This basic blanket is very versatile and can be knit with any yarn.
The multi-colored blanket is from the garter stripe pattern
here
. I got the idea for the lining from the book
Knits from the Heart
by Kristin Spurkland. It adds an interesting touch and hides the less attractive wrong side. And since I knit this blanket in a fairly loose guage, it gives it more substance. Better for warmth and less chance of tiny hands and feet catching on the stitches. It takes a little extra effort but is not hard to do. Just cut your washed and preshrunk fabric one inch larger all around than the size you need. Then fold and iron fabric edges under 1/2" all the way around. If you have a serger, you could serge the edges instead. Pin fabric to the wrong side and hand stitch in place. That's it.
Yesterday, when I was out shopping for a lining fabric, I found some nice flannel remnants. My plan is to sew up some receiving blankets and add a crochet trim to them. But, first I have to learn to crochet. Oh well, minor detail. At the very least, I can edge them in a blanket stitch. Or, I might use some of the fabric to line knitted blankets. As usual, all of these projects are for
The Preemie Project
.