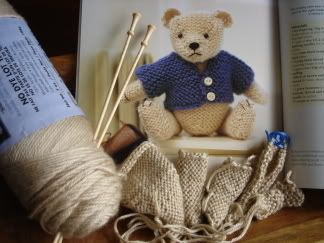 It's very quiet at home today. My husband is at work. My son started the first day of his senior year of high school. And, my daughter and her husband said good-bye a couple of hours ago after being here for a four day visit. We all had a great time together. There was knitting (the girls), computer games (the boys),
Aquire
and lots of food. It was fun! Wish we lived closer and were able to see each other more often. Summer break is over though and it's time to get into the school routine. But first, I think I'll knit a bear (from the book
The Knitted Teddy Bear
by Sandra Polley).