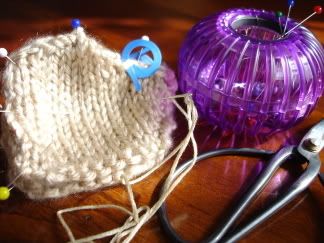 This bear had thirteen pieces to put together. I should have taken a picture of all of them, but here are two of the head pieces being sewn together. I used matching embroidery floss for most of the seaming which was done with a backstitch as the pattern suggested. It took a little time to put it all together, but I really like the way it turned out.
Meet Oliver from
The Knitted Teddy Bear
by Sandra Polley. He is made with Caron Simply Soft on size US3 needles. All that's left to do is add a couple of buttons to his jacket. If you are thinking of knitting a bear, I would highly recommend this book. It is well written and with about eighteen patterns to choose from, you are sure to find one you want to make.